Group fitness classes are a great way to meet new people, get an excerside in, and learn new skills! They also encourage you to push yourself beyond your comfort zone with the help of our couches. Grit Strength and Conditioning has a variety of classes to choose from. Check out what fitness classes are available!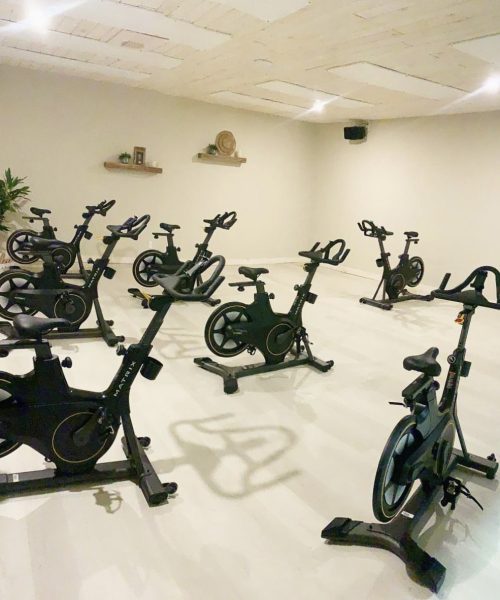 Strap into a 45 minute party-style class that will push your body in more ways than one! You can expect a mixture of sprints, interval drills, and heavy climbs all while being mentally pushed with the help of only the best playlists. With a target of both fat burning and strength building, power spin will feature the use of bands and mini weights for that extra muscle pump. This upbeat ride is suitable for all levels and will leave you feeling strong, powerful, and energized.
This 45 minute class offers the best of both worlds! You will begin on the bikes with an enjoyable ride that incorporates intervals and climbs designed to challenge your leg muscles. Afterwards we move onto the floor and channel core muscles you didn't even know existed. The class finishes with a relaxing cool down and stretch, leaving you feeling solid and ready for the week!
Take a break from your work day with our 45 minute lunch ride! Lose yourself in the music and exert all your stress away through a heart-pumping, light resistance endurance ride that incorporates long lasting runs and super fun moves in and out of the seat. With an extra focus on mentality, positive energy, and empowerment, you'll leave this ride feeling fresh and motivated!
Bring your A-game to this 40 minute high intensity interval training session that brings numerous fitness & health benefits in just a short period of time. You will move through a variety of movements at a fast pace to get you sweating, smiling, and having FUN! Participants will get the chance to utilize our boxes, sleds, battle ropes, slam balls, assault bikes, and much more. This circuit training is strategically set up with proper work to rest ratios that will challenge your cardiovascular system and maximize calorie burn! High fives and props are a must at the end of this class.
Enjoy a well rounded 45 minute workout that incorporates both weight training and full body cardio moves. Modifications are provided for all exercises to level up or down, leaving you in full control of the intensity! The goal of this hybrid-style class is to boost your overall fitness by challenging your muscular strength and endurance.
A beginner to intermediate kickboxing class that's focused on technique and combat sports strategy while still being an intense cardiovascular workout . You'll learn how to do a variety of techniques such as how to throw proper punches and kicks as well as learn the reasoning behind when and why these strikes are used. Jesse is an instructor with 6+ years of experience.
Use for Spin, yoga, Shred & Sweat, HIIT & HARDCORE. Excluded from our Strength & Conditioning Classes.
Enjoy all the yoga, HIIT & Spin you want on monthly basis! The package does not have to start on the first of the month.
The "month" begins when you book your first class then will run until that date of the following month
$165.00/monthly Unlimited
USE FOR SPIN, YOGA, SHRED & SWEAT, HIIT & HARDCORE. EXCLUDED FROM OUR STRENGTH & CONDITIONING CLASSES. EXPIRES AFTER 4 MONTH *
5 Multi Class Pack $105

10 Multi Class Pack $195

15 Multi Class pack $265