Grit yoga offers a great variety of classes from Vinyasa Reiki & Sound Bowls to Deep Flow and Power classes. All Classes are 100 degrees. Slow stretching to high pace, early morning to evening class times – we have all your yoga needs covered!
With the studio being located inside our gym we have taken several steps to ensure the noise stays out and the Shanti stays in.
See you on the mat!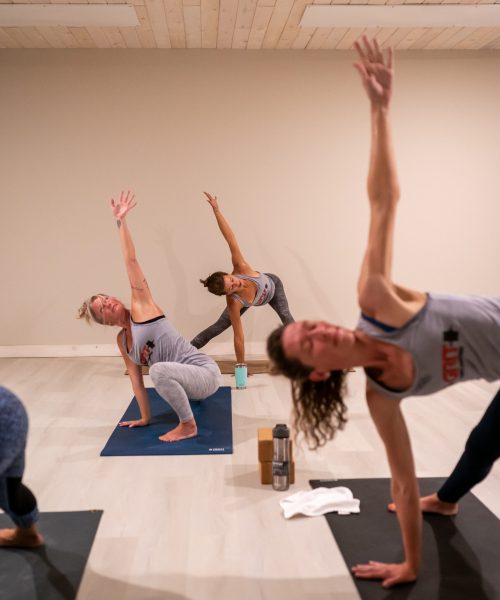 This class uses flowing movement and transitions between poses for mobility and flexibility. In this class, we link breath with movement, use breathing exercises for less stress and anxiety, lengthen muscles, strengthen joints, increase bone density and get your body moving to help stimulate and clean out internal systems. Helps with faster recovery after hard workouts, better movement, and mood!
Powerful class full of poses and movements linked with breath for building strength and improving balance. The incorporation of Pilates makes it a great class for toning and sculpting the body all while still including mobility and flexibility for a well rounded practice. This class will sure make any individual work and feel accomplished afterwards.
Flow-through each pose creating heat & increasing range of motion. Connect to your breathing and find alignment in your body. Form a connection between your body, mind and breath leaving you feeling restored and rejuvenated.
Powerful class full of poses and movements linked with breath for building strength and improving balance, while still including mobility and flexibility for a well rounded practice. This class will surely make any individual work and feel accomplished afterwards
In this class we begin with a short and light breath work session, followed by a 25 minute light vinyasa flow to get your body moving and energy flowing . Once we have nourished every part of our body with movement – You will be brought into a comfortable resting position  to begin a group reiki session . During the reiki session, there will be both hands on ( at your preference) and hands off energy work to continue bringing balance to the mind, body, soul, and nervous system, releasing any left over stagnant or stuck energy, and increasing your overall sense of well-being . The session will end with some sound integration with singing bowls to complete the process. Imagine this as an energetic massage..  leaving your physical body completely relaxed, your energy body cleansed, and your mind at peace. 
This session is great for those who are looking to ease stress and /or anxiety, relax the body, physical healing , pain relief, and an overall sense of well being in your body.
In this class you are invited to flow through a hatha yoga sequence that reaches all parts of the body to lead you toward feeling relaxed, restored and refreshed. You are guided to consciously connect to your breath and the rhythm of the music. You will receive the space to move at a slower pace, feeling and listening to the inner guidance of your body.
A class for all levels, this two-part class is a combination of the strong vinyasa – to warm up the body and let go of any fatigue, and the receptive yin yoga, holding poses for 2-3 minutes promoting balance throughout the nervous system and allowing for a sense of peace and relaxation. This class is designed to create balance and harmony within your mind, body, and soul.
This class is a mix of vinyasa flow to strengthen and engage your mind and body, combined with a few yin or restorative poses to drop you deeper into a place of stillness . This class also encourages following your own bodies wants and needs by free flowing wherever you feel called to do so.
This light class is a slow and gentle practice for any body and any level. In this relaxing class we use yoga balls on the trigger points in your body, as well as straps to get deeper into the tissue of your body. Think of this as a deep tissue massage designed for a deeper release. Followed by light vinyasa flow to loosen your body and integrate your practice.
This class explored creative, fluid movement combined with strong and longer holds, and a deeper focus on your breath. This class is designed to open awareness to your inner energy and create a deeper relationship and understanding of you body.
Align & unwind HATHA FLOW
A class that blends gentleness & challenge together, focused on the refinement & alignment of your individual practice & asana(s). Creating more space within, for you to safely unravel & experience deeper calm & relaxation.
Use for Spin, yoga, Shred & Sweat, HIIT & HARDCORE. Excluded from our Strength & Conditioning Classes.
Enjoy all the yoga, HIIT & Spin you want on monthly basis! The package does not have to start on the first of the month.
The "month" begins when you book your first class then will run until that date of the following month
$165.00/monthly Unlimited
USE FOR SPIN, YOGA, SHRED & SWEAT, HIIT & HARDCORE. EXCLUDED FROM OUR STRENGTH & CONDITIONING CLASSES. EXPIRES AFTER 4 MONTH *
5 Multi Class Pack $105

10 Multi Class Pack $195

15 Multi Class pack $265
Shannon Banfield
With great reverence, to Shannon, yoga is so much more than the physical. She is always seeking out fun & funky ways to switch up transitions & flows, while still honouring yogic roots; doing her best to blend the traditional with the modern! We powerfully utilize the breath as an anchor, to establish & strengthen the intimacy between the mind & body connection, energies & the soul, between the all pervasive & what resides within.

Her sankalpa [intention] with each class she holds, is to curate the utmost safety & sacredness for all; to go where you need to go, within any & all aspects of yourself. To witness your unique, most authentic individuality, while reminding you of our interconnectedness. Make of her classes, whatever feels best to you - the possibilities are limitless.

See you on the mat!
Tim Kennedy
Growing up immersed in gymnastics and dance, Tim has always been intrigued by the connections between how the body looks, feels and performs.

As a 300+ hour yoga teacher, holistic health therapist and massage therapy graduate. Tim believes in addressing the body as a whole is the only way to find balance and source out the core issues that cause discomfort or dis-ease.

Tim wishes to share what he's learned by integrating the teachings of eastern medicine into western culture.

See you on the mat!
Kate Bridges
Kate is a 400hr yoga teacher who is very passionate about teaching . Yoga has been a primal source of her well being. To her, there's nothing more important then exploring and getting to know your body- which is what inspires her so much to share the practice with others.
Sara
Sara grew up as an athlete and after years of playing sports started to notice significant knee pain impacting her daily life.

Over 10 years ago she started practicing yoga while trying to find ways to heal her knee pain. Not only did yoga completely resolve her physical pain, but she also began to notice the mental and emotional aspects that started to expand her connection to herself and her experience of the world around her.

Sara's classes are an invitation to care for your whole being, by connecting to your breath, a beautiful playlist, and a flow of movement. She loves to include meditation, mindfulness, and full-body relaxation in her classes.
Emily
Emily has a background in dance from a young age, and after being introduced to yoga at 13 she felt a natural progression from dance to yoga. In 2013 she became a certified Kripalu yoga teacher and began teaching all around Muskoka. More recently, she began training in Jiu Jitsu and kickboxing and started to focus on the tremendous benefits yoga brings to martial arts, sports and athleticism.

She believes in yoga's health benefits to body and mind, including the tools yoga offers to cope with stress and anxiety, to maintain a healthy lifestyle and to take your athleticism to the next level.
Paige
Paige is a motivated instructor looking to inspire people through the practice of movement to connect with their own inner self by personal intentions, meditations, pranayama and asana. Influenced by her 200 hour yoga trauma informed teacher training, her wonderful teachers, peers, environment and worldwide travels she aims to bring a sense of empowerment and belonging to each and every one of her classes. Her goal is to have every student leave her classes feeling,relaxed,refreshed and renewed.
Karlie Peters
Karlie is a 200hr Registered yoga teacher who also has certification in Trauma sensitive yoga and Y12SR + Trauma (yoga 12 step and recovery plus Trauma). Karlie has been practicing yoga for over 9 years, which inspired her to get her yoga teacher training 5 years ago. Karlie has been working with seniors for over 21 years and brings chair yoga to them. You can find Karlie teaching dock yoga in the summer around beautiful muskoka- and here in our studio!
Holly Fay
With a lifelong passion for athletics, bodywork and movement, Holly began teaching yoga in 2012 as the first hot yoga teacher in Muskoka. She has since travelled accross the country and back, led classes at some of the most beautiful spaces, practiced with some of the most interesting and experienced teachers and subsequently found herself in a more grounded, intention driven headspace where she now leads class from. She always leads a flow, weather slow or driven, in patterns that always glide from one movement to the next.
Emily Witney
Emily shines by being her warm, outgoing, bubbly self. Growing up in Muskoka she loves nature and learning about her own innate conection to creation. She loves all things, although holding space, using sound vibration, intention with reiki, crystal friends, spending time outside, and movement on all levels is what she calls her passions. Emily is a local business owner, encouraging all if they're in the area to pop in for a quick cleanse with the crystal singing bowl. Playing almost daily for several years, she started offering sound healings every Friday last year in Metatrons Garden and is excited to continue her practice in other spaces.